Rule FDAC085: Inconsistent value for --TEST within --TESTCD
Description: All values of Name of Measurement, Test or Examination (--TEST) should be the same for a given value of Short Name of Measurement, Test or Examination (--TESTCD)
The rule written in XQuery: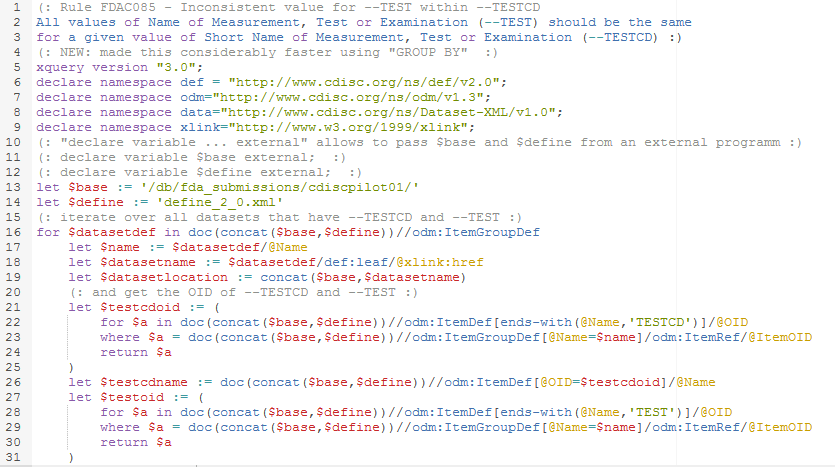 Explanation
As before, lines 1-10 contain general comments and the necessary namespace declarations
Uncomment lines 11-12 (and comment out lines 13-14) if you want to pass the define.xml path and name from your own application
Lines 13 and 14 define.xml path and name, in this case from the native XML database.
Line 16 starts iterating over all the dataset definitions in the define.xml
Line 17: the name of the dataset is taken
Line 18-19: the location of the dataset is taken from the def:leaf element
Lines 20-31: the OIDs of the --TESTCD and --TEST are captured. Note the FLWOR expression within the "let" statement. If there are no --TESTCD and --TEST variables defined for the dataset, the $testcdoid and $testoid will be null (empty)
The second part of the XQuery:
Line 32 sets the name of the --TEST variable for later use (e.g. VSTEST, LBTEST)
Line 34-41: this are probably the most complicated in the XQuery. What is does is that it groups ALL records within the dataset by the value of the --TESTCD variable. This means that in each group, all values of --TESTCD are identical. Each element in the group is an "ItemGroupData" element, i.e. a record.
The third part of the XQuery: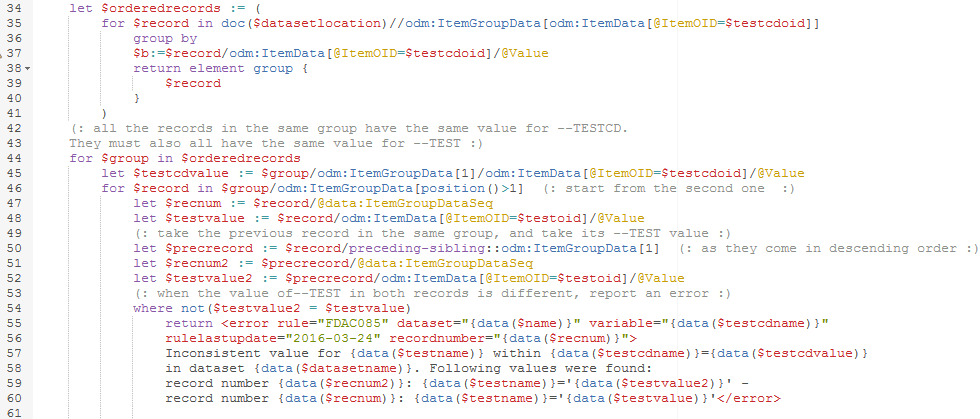 Line 42-44: we now start iterating over all the groups (each group having all values for --TESTCD equal). Ideally, within each group, the number of different values for --TEST is also 1. If not, the combination of --TESTCD and --TEST is not unique.
Line 45: the value of the --TESTCD variable is taken from the first record (all are equal within the group anyway)
Line 46: starting from the second record in the group, an iteration is started over all records in the group
Line 47: the record number is captured
Line 48: the value of the --TEST variable for this record is taken
Line 49-53: the previous record in the same group is taken, and the record number ($recnum2), and the value of the --TEST variable ($testvalue2) are captured
Line 54: the values of the --TEST variable in both records are captured. If they are not equal, an error message will be generated
Line 54-60: the error message when both --TEST values within the group (with records all with the same value for --TESTCD) are different
---
Courtesy of XML4Pharma - last update: May 2016